The Rapid Learning Cycles Framework* is a synthesis of the best ideas from Agile Development for software and from Lean Product Development methods used in hardware. The framework is tailored for teams working on physical, chemical, and biological products – which includes mixed hardware/software projects. In these domains, Rapid Learning Cycles speed up the long, slow process of R&D by eliminating the root causes of costly changes late in development.
The Rapid Learning Cycles Framework provides a structure to quickly organize and prioritize the plethora of questions which must be answered to develop a new product. Then, the team finds answers to those questions in a series of small, quick learning cycles. The team coordinates and shares their knowledge on a regular schedule, enabling them to immediately capitalize on each new piece of knowledge.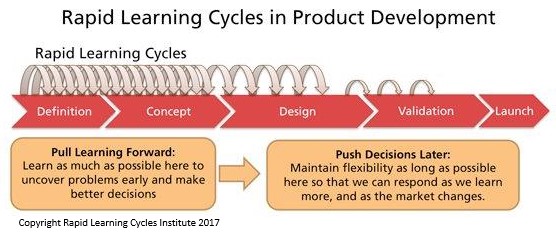 The Rapid Learning Cycles Framework brings the benefit of Agile Development to the hardware world. It works especially well on mixed hardware/firmware projects because it helps keep the hardware and software teams in sync. The framework helps hardware teams to work alongside software teams who are using Scrum or one of the other Agile Software Development methodologies.
If you've been wondering how to apply agile to your device, instrument, or mixed hardware/firmware project, Rapid Learning Cycles may be right for you.
Find out more: Contact me at kiberle@kiberle.com, or visit the Rapid Learning Cycles Institute. I am a Certified Consultant for Rapid Learning Cycles.
*The Rapid Learning Cycles framework description is based upon the Rapid Learning Cycles Kickoff Event Materials with Speaker Notes by Katherine Radeka © 2015 Whittier Consulting Group, Inc. Used by Permission.
Copyright Iberle Consulting Group 2017